Plan for fifth London cycle superhighway unveiled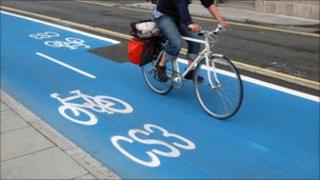 Plans for a fifth cycle superhighway in London have been unveiled.
The new 5.8 mile (9km) route would operate from New Cross Gate to Victoria, through Peckham, Camberwell, Kennington and Vauxhall.
The scheme includes safety improvements at 52 junctions, including new advanced stop lines, cycle feeder lanes and speed reduction measures.
Cyclists and people living along the route are being urged to take part in a consultation, which ends on 11 January.
The blue painted routes are designed to make it safer by, among other initiatives, widening the lanes and using large "Trixi" mirrors to give drivers better views of cyclists.
Off-carriageway route
Plans for the fifth superhighway include an "early start" cycle facility at Vauxhall Bridge Road/Millbank to help cyclists get ahead of traffic.
A protected off-carriageway route to help cyclists cut across Vauxhall gyratory has also been proposed, along with more than 3,000 cycle parking spaces along the route.
The consultation comes just weeks after the mayor of London was called on to reduce the number of serious cycling accidents on London's roads.
A report by London Assembly's transport committee said the number of cycling casualties had risen by 50% between 2006 and 2011.
According to TfL, research shows 80% of people who use the superhighways say they improve safety for cyclists.
Ben Plowden, of TfL, said the superhighways were a great way for commuter cyclists to travel into central London on safe, direct, continuous routes.
He said that since the routes were introduced in July 2010, the number of cyclists on all four routes during peak periods increased by an average of 77% to September 2012.
"This is a great achievement," he said.
TfL plans to open 12 cycle superhighway routes by 2015.