Barnet council leader defends outsourcing plans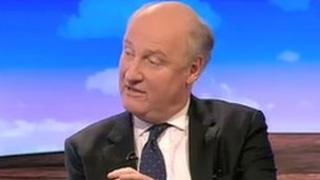 The leader of a north London council has defended plans to award £1bn worth of contracts to outsource back office services over 10 years.
Barnet council wants to award the deal to two private firms, describing it as the largest out-sourcing of services in local government history.
Council leader Richard Cornelius said the proposals would save £120m.
The plans, which would see the loss of 200 jobs, have been criticised by opponents.
The proposals are part of the Conservative-led council's One Barnet Programme which is seeking to make savings following a £43m reduction in government funding.
Councillor Brian Coleman, currently suspended from the Conservative group awaiting trial accused of assault and careless driving, said: " We're replacing if you like the monolith of the council with the monolith of a private company based hundreds of miles away, and that's not the answer to deliver efficiencies."
'Massive community revolt'
In September, squatters reopened Friern Barnet library, which was closed in April because of budget cuts.
Speaking at the library, campaigner Peter Phoenix said: "There's a massive community revolt about this One Barnet Programme.
"We've held a space where people can meet, where people can organise - they're painting banners here about One Barnet - we've had discussions, meetings and helped with direct action."
Speaking on Sunday Politics London, Mr Cornelius said the reforms would affect only 13% of services and protect other provision.
"Reducing the cost of the back office keeps other things going," he said.
"If we have to make cuts of £120m on services, we'll notice them.
"It's very difficult to shut a library. We don't want to do it.
"The saving we will make is the equivalent of 12 primary schools. It's a big deal for Barnet."
The council's cabinet is due to vote on the plans on Thursday.