Westminster horse-drawn road gritter photo emerges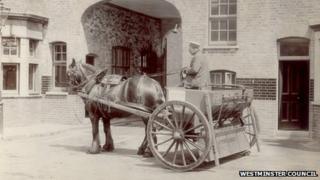 A rare photograph of a horse-drawn road gritting cart from nearly a century ago has emerged.
Experts believe carts, like the one in the 1903 picture, would have taken at least 12 days to grit the entire Westminster network.
A picture of a diesel gritting truck used by the local authority from the 1950s was also discovered.
Westminster council said it had been thought that no examples of old gritters had existed in its archives.
The pictures were found last week by archiving staff in an old folder that had not been catalogued.
Ed Argar, the councillor responsible for transport, said: "When you look at these pictures you realise just how much progress technology has made in our ability to take on snow and ice."
He said the authority now had GPS-guided gritting lorries and "an army" of smaller trucks that doubled as street sweepers.
"The technology we now have allows us to be more precise, and almost surgical, in dealing with ice and snow on the roads and pavements," he said.