Antoine and Keniece Ogunkoya: Father 'helpless' to stop killings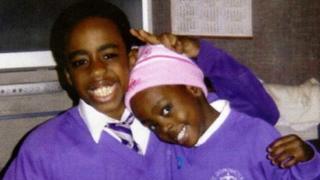 The father of two children killed by their mentally ill mother has said he was told there was not much he could do to stop her from seeing them.
Vivian Gamor, a paranoid schizophrenic, killed her son Antoine, 10, and daughter Keniece, three, in Hackney, east London, in 2007.
Gabriel "Jimi" Ogunkoya, their father, said he had not been comfortable with Gamor's request for overnight contact.
The inquest into their deaths took place at Poplar Coroner's Court.
Mr Ogunkoya said he had told Hackney Council social worker Catherine Edwards that his former partner had requested overnight contact with the children after one brief supervised day visit.
He said he told Ms Edwards he was not comfortable with it because Gamor had been sectioned under the Mental Health Act, had recently been released from hospital, and had not spent time with her children for several months.
Threatened with knife
Mr Ogunkoya told the hearing: "Catherine Edwards told me that there is nothing to stop her from seeing the children as I don't have parental responsibility.
"I didn't have a leg to stand on."
Mr Ogunkoya said he allowed two overnight visits, which seemed to have gone well.
On the third visit, on 26 January 2007, Gamor, then 29, bludgeoned Antoine to death with a hammer and suffocated Keniece with cling film at her flat in Pembury Close, Hackney.
The couple's relationship had deteriorated around 2002 and two years later Gamor started denying the children were hers, the inquest heard.
By January 2006, Mr Ogunkoya was in contact with social services and Gamor had stopped seeing the children.
Assistant coroner Selena Lynch asked: "She told the children her own children were dead and they weren't hers?"
Mr Ogunkoya replied: "That's correct. My son was 10 at the time... he was quite distressed.
"I don't think he was feeling anger towards her, he was more confused towards the whole situation."
Gamor was sectioned after threatening a relative with a knife in 2006.
After her condition apparently improved, she was allowed unsupervised access to her children, who were in the care of Mr Ogunkoya.
She was detained indefinitely after admitting two counts of manslaughter on the grounds of diminished responsibility at the Old Bailey in August 2007.
An internal review ordered by the City and Hackney Local Safeguarding Children Board found health professionals had failed to assess the risk Gamor posed to her children.
The director of children's services at Hackney Council said all recommendations of the report had been implemented and lessons had been learned.
A verdict is due to be handed down on 10 December.