Old Marylebone Town Hall leased to London Business School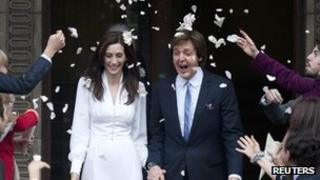 A Grade II-listed town hall in central London that has hosted a number of celebrity weddings is to be leased to a business school.
Westminster Council said the London Business School would spend about £60m on restoring old Marylebone Town Hall.
The deal aims to "create a modern learning environment" and restore the building "to its former glory".
Couples will be able to book weddings and civil partnerships there when the work is complete in 2016.
Celebrities who have married at the hall, also known as Westminster Register Office, include Sir Paul McCartney, who married his first wife Linda there in 1969 and Nancy Shevell in October 2011.
Ringo Starr, his fellow Beatle, was also married there as was Oasis frontman Liam Gallagher, who wed both Patsy Kensit and Nicole Appleton at the venue eleven years apart.
'Generate income'
A dedicated area will also be provided for council meetings once the work is complete, the council spokesman said.
Jonathan Glanz, the councillor responsible for housing and property, said: "This agreement will not only generate an income for the council, but it will also see the multi-million pound restoration of the famous building.
"I am delighted that we have partnered the London Business School and to see the historic building enter a new chapter as a modern educational facility."
A planning application is expected to be submitted before the end of the year.
The council said services would take place in other locations during the work.