'We need an elephant': Behind the scenes on Johnson tour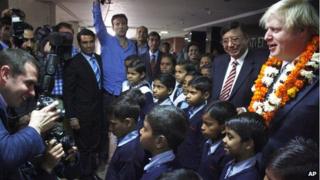 "No, no… the elephant's got to come to him …. He can't go to the elephant."
"Are you joking with me, sir?"
"No, we need an elephant."
I kid you not. This was a real conversation between a member of the press and someone from the British High Commission in Hyderabad, India. It says much of what you need to know about Brand Boris.
Media folk had dared London's mayor to ride on an elephant.
"You provide it and I will," he had typically replied.
The press found a man who could provide the requisite pachyderm. The mayor, perhaps wisely, thought better of it.
Although he's not averse to the odd picture opportunity, this trip to India is about more than gags. It's about raising the business profile of London in a country which is going to spend $3bn on new infrastructure in the next five years.
French antagonism
You get the impression, though, that if Boris Johnson's international profile were raised along the way, he wouldn't be too sad. This is, after all, a man with grand ambitions - and a man who this week has been bemusing his Indian audiences while upsetting high profile folks back home.
On Monday, he said the government's changes to the student visa system were harming the capital. That may explain why Home Secretary Theresa May, who is in India too, flew in to Hyderabad as the mayor was flying out. No time in the diaries for a meet up apparently.
On Tuesday, a dig at the French. While Boris Johnson is shuttling around trying to attract Indian businesses to London, his Gallic colleagues have fallen out of love with Lakshmi Mittal. Angry at his plans to shut two factories, some wanted him out of France. It provoked a "Venez à Londres" response from London's mayor - and a predictable dig at the French socialists. Another unsatisfied customer.
'Language barrier'
Then a spat with the British boss of Google who said Boris should get his facts right after saying he had accused them of paying no tax in the UK. Three rows that gave Brand Boris headlines in the UK, while in truth, he's not been anywhere near the front pages in India.
Baffled locals had watched as he marched off in true Johnson style through a local market. "Can I come in?" he asked the hardware store workers. The language barrier proved just that, but in he strode and posed. Not quite the elephant shot - but none too shabby.
And a chance to rub shoulders in Mumbai with England's cricketers off the back of their test victory was too good to miss… Advice from Kevin Pietersen on his batting technique - and an admission from England's captain that "his wife was a fan".
He's dug deep this week, into the Johnson bag of gags but you get the feeling that India's politicians are not quite sure what to make of their blond visitor. Much of the politics here is formal and traditional - Brand Boris isn't. The exchange of gifts at the end of visits leaves his hosts with a little something to remember him by - a signed copy of his own book on London.
It is indeed a promotional tour.