Islington Council opens 'pioneering' Bunhill Energy Centre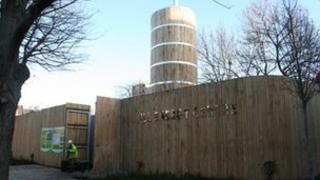 An energy centre built by a north London council to produce "cheaper, greener heat" for residents has opened.
Islington Council said the "pioneering" Bunhill Energy Centre in Central Street would benefit all 700 homes on three estates near Old Street.
The council received £4.2m in grant funding for the scheme.
The spokesman said it would provide cheaper heating to the Red Brick, Stafford Cripps and St Luke's estates.
The authority's Ironmonger Row Baths swimming pool and Finsbury Leisure Centre would also benefit from cheaper heating, the spokesman said.
'Keep bills down'
He said the heating would be at least 10% cheaper than what residents are currently paying, and that the electricity would be supplied via the National Grid.
"The income made by the council from selling the electricity to the grid will be used to help keep residents' bills down," the council spokesman said.
Islington had its own coal-powered electric lighting station in Eden Grove, Holloway between 1896 and 1969.
Paul Smith, the councillor responsible for the environment, said: "Islington Council first started providing power more than 100 years ago, so everyday residents could benefit from electricity.
"Now, as fuel bills get higher and higher and become more of a rip-off for residents, we are doing it again.
"Publicly-owned energy networks with cheaper fuel bills are the way of the future."
The Bunhill Energy Centre has been funded by grants from the London Development Agency and the Homes and Community Agency.