NHS North West London consultation backs A&E closures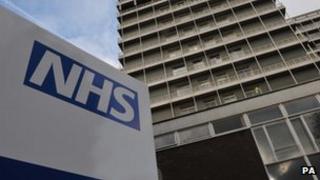 The results of a public consultation on the closure of four hospital accident and emergency units in north-west London have been released.
The findings show support for ending services at Charing Cross, Central Middlesex, Hammersmith and Ealing.
NHS North West London said 17,022 submissions were received, between 2 July and 8 October.
Opponets said the process was flawed and claim the hospitals would become "shells" treating cuts and bruises.
NHS North West London say the changes will save money and improve care.
Called Shaping a Healthier Future, the area's health cluster believes having fewer, but more specialist centres, will enhance what it delivers.
It said 64% of those who responded to the question about the way healthcare is delivered agreed there were convincing reasons to change.
'Failed to engage'
Last month campaigners fighting the plans handed a petition in to Downing Street opposing the closure of the four units.
Three different schemes are being considered under the plans, the just-released documents show.
Option A, preferred by the NHS, would have St Mary's, Chelsea and Westminster, West Middlesex, Northwick Park, and Hillingdon hospitals remaining as major facilities, keeping their A&Es.
But Colin Standfield, one of the campaigners who has been fighting the closures, said the consultation had been flawed.
"It's failed to engage with the public - fewer than 20,000 responses out of 2m people in the eight boroughs.
"And we know if hasn't engaged with the GPs at least in Ealing. Fewer than 5% of the Ealing GP votes went for Option A and two thirds of Ealing GPs didn't even bother to answer the survey.
"There needs to be some changes but what we can't put up with is four A&E departments closing and being left with cuts and bruises centres in these hospitals which become shells."
Option B has Charing Cross, Hillingdon, Northwick Park, St Mary's and West Middlesex hospitals as major hospitals, retaining A&Es facilities.
Central Middlesex would be a centre for planned or elective operations under the plans, and Hammersmith a specialist hospital, while Ealing and Chelsea and Westminster would be local hospitals.
Option C has Chelsea and Westminster, Ealing, Hillingdon, Northwick Park and St Mary's hospitals as the major hospitals.
Mark Spencer, medical director for Shaping a healthier future, said: "The important thing for us to do now is to look at all the issues raised during the consultation and address them as we review and develop our proposals."
The health trust's final recommendations are expected to be considered by the secretary of state for health in February next year.