Met police boss: Covert relations 'almost inevitable'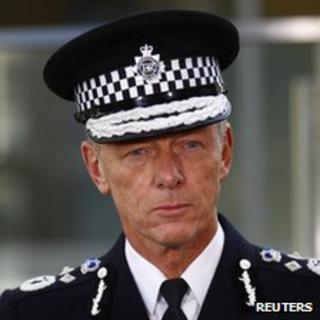 Some undercover police will "almost inevitably" have sexual relationships with members of groups they are infiltrating, the Met chief has said.
Bernard Hogan-Howe told the Home Affairs committee such relationships "shouldn't be part of the strategy".
But, he said, when officers got close to targets it was not "impossible to imagine" that relationships developed.
The Met is being sued by a group of women who have had relationships with undercover officers.
The women came into contact with five undercover officers who carried fake passports and other identity papers and were involved in various undercover operations between 1987 and 2010.
Speaking at the Home Affairs Select Committee meeting, the Metropolitan Police Commissioner said it was up to officers monitoring the deployment of undercover police to spot relationships early or before they began and to move the covert officer out.
'Lever' needed
The Commissioner was also asked about Home Office proposals, published last week, which would require police in England and Wales to attend interviews into investigations into police misconduct and deaths in custody.
Currently officers have to give statements to the Independent Police Complaints Commission (IPCC) but they do not have to answer questions.
Mr Hogan-Howe said he shared the "frustration" of the IPCC over the lack of co-operation of some officers but suggested the plans needed to have some kind of sanction, or "lever", for them to work.
He said: "At the end of the day if the IPCC don't get straight answers to reasonable questions then I can't see how you can ask an officer to continue with their duties in the same way.
"So I'm not saying they would all be sacked... but they have to know there is a risk to their employment and continuing in the Office of Constable."
'Sit in silence'
Mike Cunningham, Chief Constable of Staffordshire Police and spokesman for the Association of Chief Police Officers on Professional Standards, said compelling officers to attend IPCC interviews would not solve the problem.
He said there was no requirement for officers to answer any IPCC questions so they could "sit in silence".
He suggested changes might be needed to a police officer's contractual duties so it was part of their "professional responsibility" as employees to assist an IPCC inquiry.
The Met chief also told MPs that the investigation into the Jimmy Savile abuse scandal had so far cost about £2m.
He gave them an estimated cost for Operation Yewtree which has seen a team of 30 officers investigating alleged abuse by the TV presenter as well as claims made against other figures in the entertainment industry.