UKIP's Winston McKenzie criticised for gay adoption views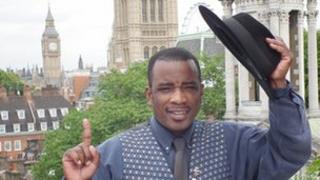 A UKIP by-election candidate has been called on to apologise after saying gay people should not be allowed to adopt.
Winston McKenzie, UKIP candidate for Thursday's Croydon North by-election, told a local reporter placing children with same-sex couples was "unhealthy".
His comments, which he said were linked to his Christian views, have been criticised by a number of his competitors for the south London seat.
UKIP said the party wholeheartedly supported equal rights for gay couples.
Mr McKenzie, who described himself as a deeply religious Christian and is UKIP's Commonwealth spokesman, also said he did not advocate gay marriage during the interview.
He told BBC London he had nothing against gay people but the comments, which he stood by, were his honest, Christian views.
UKIP says it supports civil partnerships but opposes plans to legislate for same-sex marriage.
It comes after a couple had three foster children removed from their care by Rotherham Borough Council because they belong to UKIP.
'Frankly offensive'
Social workers said the party had "racist" policies. UKIP says its policies are not racist.
Education secretary Michael Gove branded the local authority's decision "indefensible" and the council's leader said it was launching an immediate investigation.
Andy Stranack, the Conservative candidate in the Croydon North by-election, said in a statement: "Children benefit from having a male and female role model in their life but with over 60,000 children currently in the care system the most important factor is finding these children a caring and nurturing environment to be bought up in.
"I believe this can be provided by any loving relationship regardless of gender and Mr McKenzie should apologise for his frankly offensive comments."
Green Party candidate Shasha Khan called the comments "repugnant and grotesque" and said UKIP should drop Mr McKenzie.
Liberal Democrat candidate Marisha Ray said: "This is discrimination and prejudice at its very worst."
Labour candidate Steve Reed declined to comment.