Arrests over 'immigration gang' using budget airlines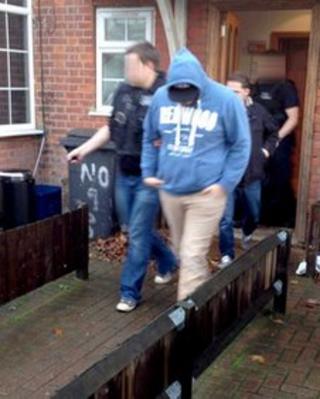 Eight arrests have been made in raids targeting a gang suspected of taking cash to help Iranian asylum seekers enter the UK on budget airlines.
Six men and a woman were held in London on Monday, and a further arrest was made in Hull earlier, the UK Border Agency (UKBA) said.
Another 11 people were arrested in raids in Madrid and Alicante.
The UKBA has been working with Spanish police and airlines including Ryanair in the Europe-wide operation.
Budget airlines
Spanish police said about 20 Iranians per month were trying to enter the UK via Europe.
Those who managed to reach the UK mostly came to London Stansted in Essex and Manchester airports on budget airlines.
Investigators believe that they were charged up to £14,000 each to get to Britain.
Six of the arrests were in north London. Four men aged 23, 29, 38 and 56, and a woman aged 23, were held in Mill Hill. A 44-year-old man was detained in Edgware, and a 46-year-old man was arrested in Kensington.
They were all held on suspicion of conspiring to facilitate an asylum seeker for gain.
In the eighth arrest, a 46-year-old man was arrested on suspicion of facilitation offences in Spring Bank, Hull.