Enfield park rape: Teen held over attack on girl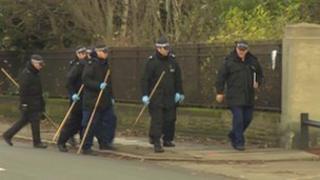 An 18-year-old man has been arrested on suspicion of rape after an 11-year-old girl was attacked in north London.
The girl was dragged from Galliard Road into Jubilee Park, Lower Edmonton, Enfield, after getting off a bus from school at about 17:00 GMT on Friday.
Police believe the attack may have lasted two to three hours in which she sustained serious injuries.
A 26-year-old man held earlier on Monday has now been bailed until a date in late December, police said.
The teenager was arrested in Edmonton on Monday evening and is currently in custody at a north-east London police station.
The girl caught the number 192 bus from Enfield Town at 16:15 GMT and got off in Bury Street to walk home along Galliard Road when she was attacked on Friday afternoon.
She was dragged into the park near the pitch and putt area and was assaulted for several hours and only returned home at about 19:45 GMT.
The victim is recovering after undergoing surgery, police said.