Robber jailed for shooting dead friend during theft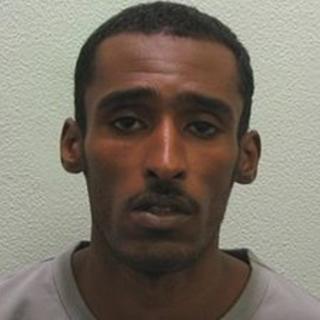 A robber who shot dead his friend has been jailed for life convicted of his murder.
Daniel Tesfay, 27, of no fixed address, shot Jonathan Barnes, 20, as they tried to steal what they thought were genuine Rolex watches in Croydon, south London.
The killer shot at seller Jordaan Williams, but the bullet hit the victim in August 2011, the Old Bailey heard.
Tesfay was jailed for 30 years after being convicted of murder and having a firearm with intent to endanger life.
The killer, who denied the charges and planning a robbery, was convicted following a retrial.
Tesfay and his friend, from Lewisham, south-east London, had gone to a house in Morland Road, Croydon, to see £6,500 worth of Rolex watches that Mr Williams was trying to sell.
'Murder Mike'
Mr Barnes shouted "Let's do it" and grabbed the watches after the deal was agreed and Tesfay pointed a pistol at Mr Williams.
But as the seller grabbed Mr Barnes and the pair tried to run away, the killer threatened the seller.
Prosecutor Roger Smart said: "He pressed this against Jordaan Williams's chest and said 'Do you know who I am? I'm Murder Mike. I'll blow your chest off, I'll shoot you'."
"Jordaan Williams again grabbed hold of Jonathan Barnes and on this occasion Daniel Tesfay then shot at him, but missed and instead shot and killed his fellow robber."
Tesfay claimed a mysterious gunman fired the fatal shot as he and Mr Barnes were about to leave.
Following the sentencing the victim's parents Douglas and Judith said in a statement: "He took people on face value.
"It was partly this naivety which led to his death."