Man remanded over naked climb on Whitehall Prince George statue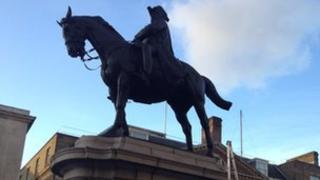 A man who allegedly stripped naked on top of a central London statue has been remanded in custody by a court.
Dan Motrescu, 29, a Ukrainian of no fixed abode, allegedly spent hours on a statue of Prince George, Duke of Cambridge, in Whitehall on 23 November.
He was charged under Section 5 of the Public Order Act, with possession of an offensive weapon and criminal damage.
He was remanded by Westminster Magistrates' Court. He will appear at the same court on Thursday.
Mr Motrescu dismissed his lawyer and told the court he wanted to be deported back to Ukraine and for the case to be heard there.