Police appeal for public's help in countering terrorism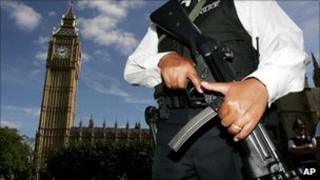 The Metropolitan Police has appealed to members of the public to be vigilant in helping to stop terrorism.
The force is launching Operation Penna, which it said will remind the public of its "vital role".
Until 7 December there will be high visibility patrols in busy hubs and briefings will be given across London's 32 boroughs about the capital's terrorism risk.
The threat remains "real and serious", said Commander Richard Morris.
He said the public would be reminded to stay vigilant and to report anything suspicious.
He added: "Protective security is a key element of our counter-terrorism strategy as it creates a hostile environment for people planning terrorist attacks.
"Everyone has a role to play in keeping London safe and this operation sees specialist officers working closely with neighbourhood officers and communities, which is vital."