Wood recycling yard fire: Bosses had flouted safety rules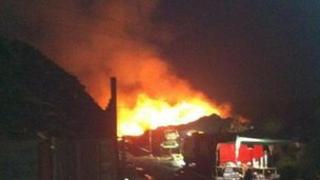 The operators of a Hertfordshire wood recycling yard hit by a serious fire two weeks ago repeatedly flouted safety regulations, BBC London has found.
The investigation also revealed operators at Wood Recycling Services Ltd are linked to a huge accidental blaze in north London in 2005.
Firefighters said the recent fire in Appspond Lane, Potters Crouch, could take weeks to extinguish.
Wood Recycling Services Ltd said the blaze could have started by accident.
Hertfordshire Fire and Rescue Service said residents had suffered extensive disruption due to the fire, which started on 10 November.
Marlene Pincott, who lives locally, said: "We're absolutely fuming, we've complained to the Environment Agency for years about this site."
Wood Recycling Services Ltd said there was a possibility the fire could also have started due to a spent firework.
Company director Simon Lupson said it was "a very difficult situation for all concerned".
In 2000, Adrian Lupson and a former company, EQ Waste Management, trading at the same Appspond Lane site, were fined after admitting three offences relating to dangerous amounts of waste.
In July 2005, huge piles of wood caught fire at another site run by brothers Simon and Adrian Lupson near Staples Corner in north London.
Traffic on the M1 and North Circular ground to a halt with hours of gridlock. It was decided that the blaze was accidental.
The following year, an inspection by London Fire Brigade found serious safety hazards at this site.
In 2009, Adrian Lupson was in court again, admitting three more safety offences and had to pay more than £80,000.
Last year, the National Grid began warning Wood Recycling Services Ltd about the height of wood piles at the Appspond Lane site and from July 2012, the Environment Agency (EA) said it must remove thousands of tonnes of wood which the agency believed were a safety hazard.
'Very frustrating'
The EA is now investigating if this was linked to the blaze.
EA enforcement notices seen by BBC London reveal concerns that waste at the site "involves a risk of serious pollution", the site "has a history of deep seated fires" and "smoke from a fire at the site could cause a risk of serious harm to human health".
In a statement, Wood Recycling Services said: "The economic impact on WRS [Wood Recycling Services] is considerable as there can be no continuation of normal business until the fire has been put out but the company will not be reducing headcount in its team of local workers."
Company director Simon Lupson said: "We have been operating the wood processing operation very successfully at this site since 2008.
"It is very frustrating that a fire like this not only stops a good and growing business in its tracks, but restricts the amount of bio fuel available to green power stations through these winter months."
When asked by BBC London why the firm and those linked to it appeared to have a history of safety warnings and previous fires, the company declined to comment.