Drop in London's affordable homes build in 2012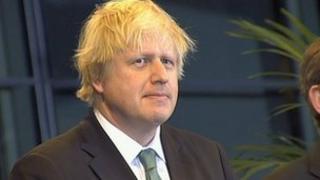 The number of affordable homes built by London's mayor will drop by more than half this year, it has been revealed.
Boris Johnson will also no longer use his affordable housing fund - nearly £2bn over three years - to pay for social rented housing.
The mayor's chief housing official insisted the mayor would repeat his 50,000 target over four years.
Despite growing demand, only 7,500 affordable homes will be completed in 2012.
It compares with 16,000 completed last year ahead of the election, when Boris Johnson claimed he had delivered record housing.
Questioned by members of the London Assembly's budget committee, David Lunts, the mayor's lead housing official, said one reason for lower figures this year was that there had been a deliberate "acceleration" of building last year.
He accepted there had been difficulties starting a new affordable housing programme, introducing a category of higher rent levels, but insisted the mayor would repeat his target from 2008 to 2012 of building 50,000 new homes over four years.
He said: "I wouldn't call it slippage. It's reforecasting."
Higher rents
But committee chairman Labour member John Biggs said it was clear there were problems because only 425 new affordable homes had been started this year.
Liberal Democrat vice-chair Stephen Knight said there was a "credibility gap" in the mayor's housing plans.
At a meeting considering changes to the mayor's housing strategy, his aides revealed they no longer intended to fund social (council) housing schemes.
Money will only be available for schemes where a new category of "affordable rents" is adopted.
These will require that higher rent is charged, between 60 and 80% of the market rate in an area.
It is opposed by a number of London councils and housing groups who say it will put housing beyond the reach of thousands of people in the capital.
City Hall says it is implementing government policy which is designed to build more homes at higher rents rather than fewer homes on lower rents.
It was revealed on Tuesday the first housing development on the Olympic Park will have less affordable homes than the 35% required under the mayor's own policy for the site and for London as a whole.
A spokesman for the Mayor of London said: "Between now and 2015 nearly 11,000 homes will be delivered specifically for the social rented sector and many more affordable homes will be delivered through the affordable rent programme with rents within housing benefit caps."