Tube strike called off by RMT union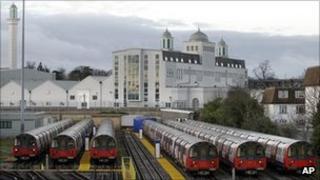 A 24-hour strike by Tube maintenance workers has been called off after weekend engineering works were cancelled, the RMT union has announced.
Tube Lines employees had been due to walk out on Friday morning in a long-running row over pensions.
The union said the cancellation of the works was a clear recognition of the success of the RMT's action.
Tube Lines said the cancellation of the upgrade work had been planned and had nothing to do with the strike threat.
Staff who maintain and upgrade the Jubilee, Northern and Piccadilly lines were due to walk out at 06:00 GMT on Friday in a fourth wave of industrial action.
The RMT wants Tube Lines employees to be able to join TfL's pension scheme and receive travel concessions, which the union said other people who worked for TfL received.
'Objective met'
It said LU management had cancelled scheduled weekend engineering works in response to "the success of previous rounds of RMT Tube Lines strike action".
RMT General Secretary Bob Crow said: "The cancelling of the weekend's engineering works schedule is a clear recognition by LU of the success of RMT's action and as a result we have no need to proceed with this round of strikes as our objective has been met.
"The dispute, over pensions and passes justice and equality with other LU staff, remains very much on and we will now be reviewing the tactics and the success so far which has been achieved as a result of the solidarity and determination of RMT members."
Jon Lamonte, chief executive of Tube Lines, said: "I am pleased that the RMT leadership has called off its completely unnecessary planned industrial action on the Jubilee, Northern and Piccadilly lines.
"Since becoming part of Transport for London, all Tube Lines' employees have kept their existing terms and conditions of employment."
On the upgrade work, he added: "The only planned weekend upgrade work on the Northern Line this weekend would have been overnight Saturday to Sunday, work which had already been cancelled by our contractor because that programme was ahead of schedule."