West End criminals handed five-year Asbo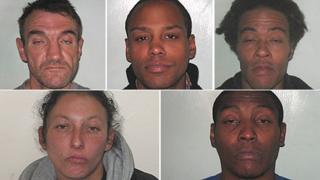 Four men and a woman who have committed a string of offences have been banned from the West End and parts of Camden for five years.
Anthony Carroll, Durane Sweet, Basil Turner, Georgia Nelson and Wayne Sang face the restriction under the terms of an Anti-Social Behaviour Order (Asbo).
Westminster Council said between them they have committed up to 500 offences.
All five have previous convictions, including for theft, anti-social behaviour, assault and drugs offences.
Crimes committed by Carroll, 44, Sweet, 37, Turner, 48, Nelson, 39, and Sang, 37, date back to the early 90s.
'West End menace'
More than half of the offences were committed in the borough of Westminster, particularly in the West End over the past decade, the council said.
Westminster Council's cabinet member for community protection, Councillor Nickie Aiken, said: "These five serial offenders have been a menace around the West End, intimidating visitors and local people and also proving a blight on businesses.
"We see the Asbos as a substantial victory which will help us clear central London of these undesirable characters once and for all, as part of our ongoing work to clean up the West End."
Det Ch Supt Paul Pickett from Westminster Police said: "These excellent results are all part of our sustained drive to change the look and feel of the West End, making it a hostile environment for criminals."
The five face criminal sanctions if they breach the terms of their Asbos.