Oceana nightclub in Kingston has licence revoked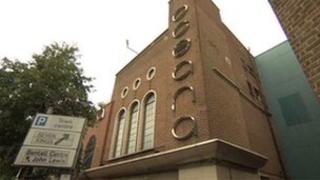 A nightclub in south-west London where a man was stabbed to death has had its licence revoked because of a "culture of criminality", police said.
Jamie Sanderson, 20, was killed at Oceana in Clarence Street, Kingston, in October, and since 15 August assaults have taken place in and near the club.
The Met says Oceana has the highest associated crime levels in London.
Luminar, which runs the club, said "sophisticated search and security procedures" are in place at the venue.
The company has 21 days to lodge an appeal against the loss of the licence.
Popular venue
Martin Greenslade, Kingston Borough commander, said: "A culture of criminality has built up around the club, which has been unable to bring the level of crime down to a comparable level with other clubs in London.
"This is despite the ongoing support and advice from officers. The continuing high volume of crime has formed the basis of our argument for the revocation."
Three people have been charged with the murder of Mr Sanderson, from Southall, west London, who was found with stab wounds in the early hours of 25 October.
In a statement, Luminar said the decision to revoke the licence was disappointing.
It said: "The death of a customer in our club was tragic, but the safety and security of our customers is and always has been our main priority.
"We would like to stress that the club has one of the most sophisticated search and security procedures in the UK, which proved invaluable to the police investigation and led to the arrest and charging of three people.
"Over 300,000 people visit Oceana every year, making it one of the most popular venues in the UK. It's so sad that the few spoil it for the majority."