UKBA alerted over suspected sham civil partnerships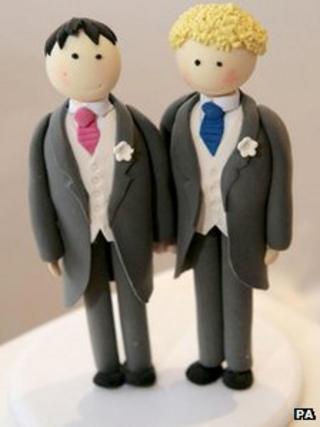 Immigration authorities have been alerted to dozens of suspected sham civil partnerships in the past two years, the BBC has learned.
Since 2010, registrars have contacted authorities on 49 occasions with suspicions relating to same-sex ceremonies involving foreign nationals.
The figures were released following a Freedom of Information Act request.
The Home Office could provide evidence of two arrests in relation to an alleged sham civil partnership.
Registrars are encouraged to report their suspicions of a suspect marriage or civil partnership under Section 24 of the Immigration and Asylum Act 1999.
However a Section 24 notification does not automatically mean that a sham partnership has taken place.
There was no data available on the number of Section 24 reports involving same sex civil partnerships between 2005 and 2010.
In 2011 there were 28 reports and so far in 2012, there have been 21 reports, the UK Border Agency (UBKA) figures show.
In June, a 30-year-old Sri Lankan man was detained as he prepared to take part in a suspected sham civil partnership ceremony at Ealing Register Office.
He was due to enter into a partnership with a man more than twice his age when officers from the UKBA intervened and arrested him for overstaying his visa.
His intended partner, a 68-year-old British man, was also arrested.
'Equally vigilant'
The Sri Lankan man was held by authorities pending removal and the British man was released.
The UKBA said Section 24 notifications only related to suspicions and that some of the reported civil partnerships reported may have been legitimate.
It pointed out that these reports might also be subject to ongoing action.
Mark Rimmer, chairman of the Local Registration Services Association, told the BBC: "Registrars have experienced a significant rise in the incidence of sham marriages since the legislation introduced to combat the problem was repealed in May 2010 as a result of High Court judgements.
"What has been less obvious has been the incidence of sham civil partnerships, and I would certainly urge all registrars to be equally vigilant with regards to these ceremonies.
"The reasons for suspicion are exactly the same as those for marriages, and registrars should not hesitate to report any suspicions to the UK Border Agency".
In a statement, the UKBA said: "We investigate all reports of suspected sham marriages or civil partnerships and will take tough action against anyone suspected of trying to use marriage or civil partnership to cheat our immigration laws.
"All our operations are intelligence-led, and we would urge anyone with information about anyone breaking the law to contact us."