Lewisham hospital consultants' fears for critical care unit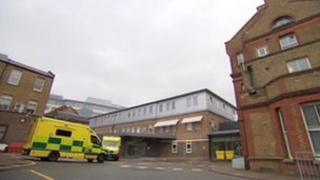 Seven consultants at Lewisham hospital have raised fears about the future of its intensive care unit.
They say planned changes for the now dissolved South London Healthcare Trust (SLHT) would result in its closure.
Several critical care beds in south-east London have been recommended for closure by the Trust Special Administrator (TSA) Matthew Kershaw.
Speaking for the TSA, Michael Marrinan, a consultant surgeon at King's College Hospital, said nobody would be at risk.
The seven consultants said the changes would "disproportionately hit critically ill patients from the most deprived areas of south-east London".
SLHT, which serves one million people in Bexley, Bromley and Greenwich, was put into administration in July after running up debts of more than £150m.
'Change needed'
A Trust Special Administrator was then tasked with making a recommendation on how to deliver access to safe, high quality, affordable health services and a long-term sustainable health economy for the people of south-east London.
Mr Kershaw's draft report was published on 29 October and on 2 November a six week-long consultation with staff, patients and the public began.
But the ITC consultants have said they are opposed to the changes recommended for Lewisham, which include closing the hospital's A&E unit.
In a letter to Mr Kershaw the seven-strong team said while recognising the need for change "we do not agree with the very specific changes you recommend for Lewisham".
"Following implementation of your recommendations we fear that the residents of Lewisham will be forced to bear the brunt of this risk and have to travel to receive intensive care treatment possibly outside south-east London," it said.
"All the hard work over many years of continuous improvement and dedication to helping the sickest patients in the borough of Lewisham will be destroyed," it added.
'Robust plans'
The proposals for Lewisham are part of a bigger plan to restructure the hospitals in south-east London.
The plans would save three hospitals that made up the SLHT - Queen Elizabeth in Woolwich, The Princess Royal in Orpington and Queen Mary's in Sidcup - by amalgamating services and sending some patients to other hospitals like King's College in Denmark Hill, St Thomas's in Lambeth or Princess Royal in Bromley.
Mr Marrinan, who is a medical director at King's College Hospital, said: "All of these plans work together with one aim and one aim only in mind - to deliver the highest quality of care for everybody every day of the week throughout south-east London.
"And they're well developed and robust plans - nobody will be put at risk by this."
A final report will be submitted to Health Secretary Jeremy Hunt in January 2013 for a final decision in February.