Earls Court demolition plan approved for new homes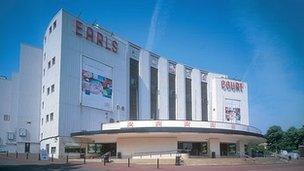 Earls Court Exhibition Centre in west London is to be demolished to make way for thousands of new homes.
Developers want to create four "villages" and a "high street" on a 77-acre site.
The scheme, straddling the boroughs of Kensington and Chelsea and Hammersmith and Fulham, is expected to take 20 years to complete.
Developers Capital and Counties said the plans will create 7,500 homes and thousands of permanent jobs.
But campaigners from Save Earl's Court West Kensington & Gibbs Green estates said the "greedy scheme" will lead to thousands of job losses.
Members of Kensington and Chelsea's planning committee approved the project at their meeting on Tuesday evening.
Councillor Paul Warrick, who chaired the meeting, said: "Redeveloping Earls Court to provide much-needed housing and other uses has been our policy for many years.
"We hope that the granting of this planning application will make Earls Court a more desirable place to live with less congestion and more opportunity for work, commerce and leisure."
Community organiser for the campaign group Jonathan Rosenberg said: "Last night's decision completes the alignment of residents and businesses who will be damaged by this greedy scheme.
"The destruction of trade and industry, the loss of thousands of jobs and the demolition of such an iconic part of our heritage in favour of luxury flats is a disgrace.
"Council tenants, Kensington residents and the exhibitions and events industry are united - we shall stop this scheme."
The redevelopment will take in Seagrave Road car park, Lillie Bridge railway depot and West Kensington and Gibbs Green housing estates.
The scheme proposes new community facilities including a nursery, healthcare centres and open spaces, plus financial contributions to Transport for London to refurbish parts of Earl's Court Station.
But tenants and leaseholders on the West Kensington and Gibbs Green housing estates, who will have to be rehoused, have called for a judicial review on the grounds that the plan is contrary to Hammersmith and Fulham's local planning policy.
Earls Court Exhibition Centre, which opened in 1937, hosted the volleyball tournament for London 2012.
Related Internet Links
The BBC is not responsible for the content of external sites.