Congestion charge greener vehicles rule change planned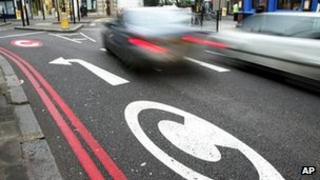 More than 19,000 motorists who avoid London's congestion charge because they drive greener vehicles have been warned they may have to pay in future.
Transport for London (TfL) has proposed abolishing the Greener Vehicle Discount which applies to cars with emissions of less than 100g per km of CO2.
Motorists currently eligible for the discount will be granted a two-year "sunset period" before they are made to pay the full congestion charge.
Proposals are subject to consultation.
'More efficient'
The congestion charge for cars entering the central London zone currently stands at £10 - or £9 for drivers who are registered to pay via an automated payment service.
Under the plans, the penalty for not paying the charge will also rise from £120 to £130.
TfL said from July 2013 electric vehicles and cars that comply with much tighter emissions standards would receive an Ultra Low Emission Discount, earning free entry into the congestion charge zone.
After 2015, the the current Greener Vehicle Discount would be scrapped.
Nick Fairholme, TfL's director for congestion charging, said: "We are really keen to hear what Londoners and motorists have to say about the proposed changes to the congestion charging scheme.
"The proposed changes will make the scheme greener and more efficient."
Green Party London Assembly Member Jenny Jones said it was an overdue but welcome first step.
She said: "The Mayor should use this opportunity to set up a very low emission zone, starting with a £25 charge for the most polluting diesel cars."
The 12-week public consultation closes on 8 February 2013.