Met Police cars to have Battenburg livery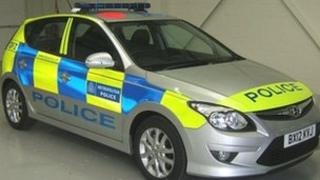 The livery of Metropolitan Police cars and vans is to change from thin stripes to a so-called Battenburg design.
The force said the move from three orange and yellow stripes to yellow and blue checks would increase visibility.
More than £230,000 will be spent over the next three years to change the designs on 510 cars and 240 vans.
The Met said the new livery had been backed by members of the public in a social media campaign, with 435 of 800 votes for the Battenburg design.
The stickers will be updated yearly when old vehicles are replaced, the force said.
On Monday the Met revealed its latest plans to help make £500m in savings and boost front-line policing by 2015.
Proposals included cutting the number of senior officers by a quarter and axing 3,500 civilian posts.
'Keep Londoners safe'
The Met's response fleet will be the first to receive the new markings.
The Battenburg livery was developed by the Home Office in the 1990s by the then Police Scientific Development Branch and is used by police forces in the UK.
Figures from the Met show that last year 4,238 incidents were recorded as police collisions. In 2,056 cases, police were held to be to blame, at least to some degree.
More than 500 of the total incidents took place during police pursuits, and some form of injury resulted in 90 of these cases.
Assistant Commissioner Simon Byrne said: "The introduction of the Battenburg design will make the cars more conspicuous and help keep Londoners safe."