Scotland Yard to cut senior ranks in £500m savings plan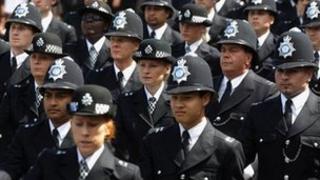 The Metropolitan Police plans to cut the number of senior officers by a quarter to help save £500m by 2015.
The force would replace 1,200 officers of sergeant and above with 2,000 new PCs to make savings of about £60m.
A total of 3,500 civilian posts would also go, saving £60m, if the proposals are approved next year.
London Assembly Labour group said the cuts were "too deep and too fast" and would affect the quality of policing.
The plans, designed to deliver savings and boost frontline policing, were submitted to the deputy mayor for police and crime on Monday.
If the changes were to go ahead it would leave the force its the highest number of constables - 26,000.
Forced retirement
Of the 3,500 non-uniform posts that would be lost, 1,100 are currently vacant posts that would not be be filled this year.
Eight hundred more would go through voluntary redundancy by the end of the financial year and a further 1,500 by 2015.
Currently the Met has 31,304 police officers, 2,807 PCSOs and 12,991 civilian staff.
It is understood the Met is also discussing whether the A19 rule should be used - forced retirement after 30 years' service.
London Mayor Boris Johnson said: "I have said many times I want to see at or around 32,000.
"It's jolly tough, it's very tough to deliver that in the current economic climate, but we are working on it.
"The changes that we are making will involve the deletion of quite a few posts that are unfilled in the backroom, will mean the staggered loss of some other posts but not losses out of the frontline numbers."
London Assembly Labour member John Biggs said: "I think we are finding a lot of political management in this but the reality is you can't hide from this level of cuts and it is going to fundamentally reduce the quality of policing Londoners receive.
"It is too deep, its is too fast, it's the wrong cuts at the wrong time in London's economy."
Last month the Met unveiled plans to sell off its New Scotland Yard headquarters in Victoria, central London, as part of the cost savings.
It also revealed police stations across London would also be under threat, with five already approved for sale, under moves to dispose of a third of its estate.
The final budget will be signed off by the mayor's office in March.