Thames Tunnel 'super sewer' silence 'can't be bought'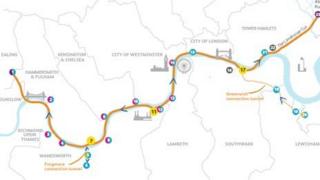 Compensation for homes affected by Thames Water's "super sewer" proposals will not be enough to "buy the silence" of residents, a council has said.
The tunnel would run from west to east London collecting 39 million tonnes of sewage which is currently discharged in the Thames yearly.
But Hammersmith & Fulham Council said the deal would not be enough for residents who face moving as a result.
Thames Water said the work would stop sewage being discharged into the river.
It says the current Victorian system is incapable of coping with modern needs and large quantities of sewage leaks into the Thames triggered by rainfall.
The planned 20-mile (32km) tunnel would run at a depth of about 246ft (75m) collecting sewage that would have otherwise been discharged into the Thames.
It is proposed that the sewage will be treated at Beckton Sewage Treatment works, in east London, before entering the river.
'Disaster for residents'
If approved, the main tunnelling work will begin in 2016, with the project expected to be complete in 2023.
But Hammersmith & Fulham Conservative Council leader Nicholas Botterill said Thames Waters' plans were "a disaster for residents and homeowners in south Fulham".
Thames Water has announced a compensation deal for property owners in south Fulham, west London, who could be affected by its tunnelling.
It says that the only residents who will be considered under their hardship procedure must:
Have made 'all reasonable' efforts to sell their property but not received an offer within 15% cent of the market value
Be within 100m (328.1ft) of the construction site
Be owner-occupiers, meaning people who rent are excluded
Not have bought the property after 13 September 2010
Have a pressing need to sell.
Mr Botterill added: "Instead of trying to buy residents' silence it is now time for Thames Water to ditch this whole tunnel project and instead pursue the cheaper, less disruptive and more environmentally friendly ways to make the Thames cleaner."
A Thames Water spokesman said: "Where we identify that noise cannot be reduced to reasonable levels, we will offer people noise insulation (such as secondary glazing) for those properties most affected.
"We currently expect temporary rehousing to be appropriate only in a very limited number of cases.
"Our approach to minimising disruption is, and will continue to be, in line with government policy on major infrastructure projects."