Community order for hoax nun over Nick Clegg letters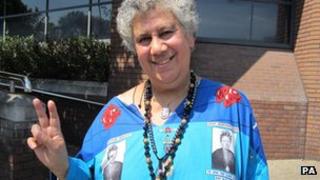 A 72-year-old woman who sent envelopes containing white powder to parliamentary figures including Nick Clegg has been given a community order.
Ruth Augustus, who claims to be a Catholic nun, was found guilty of six hoaxes involving noxious substances in July.
She has been told she must serve a two-year community order and have mental health treatment.
The letters were intercepted at an east London mail screening centre last year.
The powder was found to be non-hazardous, the Old Bailey heard.
Augustus, of Leyton, east London, accepted that she sent envelopes with letters in them but claimed police put the white powder in.
Devil worship
Mark Kimsey, prosecuting, said three envelopes were intercepted at a mail screening centre on 17 June 2011.
One was addressed to Deputy Prime Minister Mr Clegg and on the envelope was written "devil worshipping", "freemason", "sex with 30 plus women".
The second was to Baroness Scotland and had a swastika on it and two crosses, and "stop this evil devil worshipping".
The third was to Baroness Kennedy and was marked with a swastika, and "stop these evil devil-worshipping freemasons".
On 1 October last year, three more envelopes were found, addressed to Mr Clegg, Lady Kennedy and MP Edward Leigh.
The envelopes carried similar endorsements and slogans and contained white powder which was found to be non-hazardous.
The court heard that Augustus suffers from a delusional disorder which can be treated within the community.
Augustus was arrested on 7 December and told police: "I'm Sister Ruth, a 71-year-old disabled nun."
'Offensive letters'
She also said: "I look like a terrorist, don't I, working for a charity all over the world, with orphans?
"I'm not a Muslim terrorist, I'm a Catholic nun."
Asked why she had sent a letter to Mr Leigh, she said: "He's a Catholic and goes to Westminster Cathedral."
Of Mr Clegg, she said he "lied about all the tuition fees and everything else, keeping those Tory millionaires and rats in government".
She added: "He boasted about all the women he's had sex with. He's an atheist singing hymns in the Albert Hall."
Mr Justice Saunders said the people she addressed her letters to would not have known the powder was harmless.
He said it would have been "a terrifying experience for them" if the letters had not been intercepted.
The court also heard that two members of the public had previously received offensive letters from Augustus, who was subsequently given a restraining order.
After Augustus was told she could leave court she shouted: "It's run by devil-worshipping freemasons, Nazis who break the law at a huge expense already."
A spokeswoman for the Catholic Communications Network said: "The lady who calls herself Sister Ruth Augustus is not a member of any religious order known to the Catholic Church."