Ellie Simmonds reopens Ironmonger Row Baths in Islington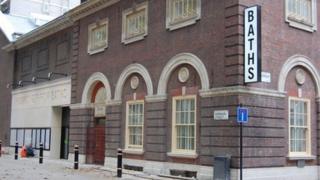 Paralympic gold medal winner Ellie Simmonds has appeared at a swimming gala to mark the £16.5m transformation of a 1930s east London swimming pool.
After the celebration gala on Friday, Ironmonger Row Baths in Islington will be open for a week to invited community groups, including local schools.
The Grade II-listed building closed for refurbishment in May 2010.
The swimming pool will fully reopen to the general public on Saturday 24 November.
'Lasting legacy'
Ironmonger Row Baths originally opened in 1931 as a wash-house for local people, at the time when more than 95% of local households did not have a bath.
The swimming pool was added in 1938, also with an official ceremony followed by a swimming gala.
The refurbishment includes:
Full restoration of the main pool, with improved water circulation and a healthier swimming environment
A new training pool with a moveable floor to improve access for learners and disabled people
Restoration of the Turkish Baths and new expanded spa area
Islington Labour councillor Janet Burgess said: "The new-look Ironmonger Row Baths is an exceptional place for residents to swim, exercise and relax, and a lasting legacy of this Olympic year."