Croydon North residents to head to polls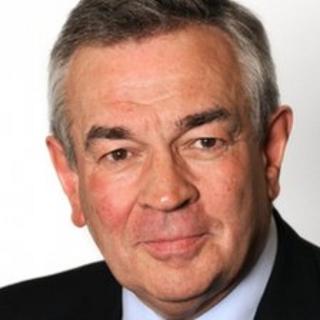 Voters in Croydon North are due to head to the polls on Thursday, following the death of Labour MP Malcolm Wicks.
The former energy minister, who had cancer, died in September at the age of 65. He had served the constituency since 1997.
He held a variety of ministerial briefs under Tony Blair and Gordon Brown including pensions, science and energy.
A dozen candidates will be standing in the by-election in the south London parliamentary constituency.
Find out more about each of these candidates below.
JOHN CARTWRIGHT - Official Monster Raving Loony Party
John Cartwright, the Official Monster Raving Loony Party candidate, said his election would help towards the party's aims of pressing ahead with the reform of the House of Lords, and introducing the proportional representation voting system.
He opposes the proposed incinerator on the Croydon/Sutton border and proposes investing in renewable energy, withdrawing from the European Union (EU) and supporting immigration to help the economy.
The party also wants to legislate for gay marriage, and support the monarchy.
Mr Cartwright said: "I thoroughly admire Prince Harry but I think he's too important to serve in Afghanistan, so we need to bring him home and bring all the troops home from Afghanistan."
RICHARD EDMONDS - National Front
National Front candidate Richard Edmonds said in a statement that he had "steadfastly defended the British people's right to live sovereign and free in their ancestral homeland".
He said he decided to participate in the by-election to censure the "grossly irresponsible" policies that led to an environment in which the riots of August 2011 were possible.
"This by-election is an opportunity to start a process of re-framing political discourse by challenging the shibboleths of a virulently anti-British establishment," he said.
He said the National Front rejected "the desirability of a multi-racial/multi-cultural society imposed without consent".
LEE JASPER - Respect
Respect Party candidate Lee Jasper is a former policy adviser to Ken Livingstone.
In his manifesto, he said believed he could "truly make a difference" to the lives of people in the constituency and intended to "defend the poor from the ravages of austerity".
He said he had extensive plans to regenerate the area and tackle issues including unemployment, lack of housing, fuel poverty, crime and education.
Mr Jasper said he would also campaign against cuts to early years programmes like Sure Start and programmes for disabled children, and would campaign against stop and searches driven by racial profiling.
"With two-and-a-half years to go before the general election, voters don't have to vote tactically. They can vote for what they believe in."
SHASHA KHAN - Green Party
Islington-born Shasha Khan, who has lived in Croydon for 30 years, said his policies included stopping the proposed incinerator, and added that he was also concerned about the "academisation" of schools in North Croydon.
He said he also wanted to implement a "proper house-building programme", and that he opposed the Health and Social Care Bill.
"With two-and-a-half years to go before the general election, voters don't have to vote tactically," he said.
"They can vote for what they believe in."
WINSTON MCKENZIE - UKIP
UK Independence Party (UKIP) candidate Winston McKenzie said he has lived in Croydon for 50 years.
He said he proposed to ensure more jobs and homes for young people, deal with the root causes of crime, implement no tax on the minimum wage and hold a referendum on the European Union, which he said would "preserve British sovereignty and save £53m a day".
He said: "I've been working tirelessly in schools, colleges and doing things within the community to promote the young, the old and those who are disadvantaged".
Mr McKenzie, who moved into the area from Jamaica aged five, also said he wanted to tackle homelessness and bring a self-build housing scheme to the constituency.
MARISHA RAY - Liberal Democrat
Liberal Democrat candidate Marisha Ray has said she is "very fond of Croydon", having frequently visited the area during her childhood.
The former Islington councillor said she had a record of tackling crime and campaigning for NHS services.
She said issues that mattered in Croydon included cutting crime, fairer taxes and creating jobs.
She also said she was concerned about the impact the reorganisation of NHS in South London would have on services at Mayday Hospital in Thornton Heath.
STEVE REED - Labour
Labour candidate Steve Reed is currently the leader of Lambeth Council and lives in Streatham, a "10 minute cycle ride away" from Croydon North.
He said unemployment was one of the issues he wanted to tackle, along with cuts to policing following the riots of August 2011.
He said other issues were that the streets in the constituency were dirtier than in South Croydon, and that libraries were being cut.
"People are also worried about the state of Mayday Hospital," he added. He said he would leave his post at Lambeth is he is elected.
ROBIN SMITH - Young People's Party
Young People's Party candidate Robin Smith said the party had one policy "that goes to the root of all social problems we see today".
The 49-year-old economist by trade, who lives in Wokingham, Berkshire, said the party's plan was to abolish all taxation except for that on the value of land.
"There's plenty of housing, office space, labour and entrepreneurs in Croydon but property developers and landowners are hoarding land," he said.
Mr Smith added that the party's policy, which would not be a land value tax, would "turn Croydon into the envy of the UK within 10 years."
BEN STEVENSON - Communist
Communist Party candidate Ben Stevenson said the party would campaign to oppose the coalition government's cuts, and what it described as EU austerity measures.
He said he wanted to tackle housing shortages, unemployment and added pressure on the Mayday Hospital due to NHS reforms elsewhere in south London.
He said changes to housing benefit were likely to force people out of inner London and into Croydon.
"We need to start introducing rent controls in the private sector," he said, adding that there were more than 1,000 dormant properties in Croydon that were "immediately habitable".
ANDY STRANACK - Conservative
Croydon-born Conservative candidate Andy Stranack said he had a five-point plan for tackling crime.
He said he intended to get more police resources to Croydon, get tough on sentencing and deal with underlying issues such as drug addiction and family problems to reduce reoffending rates.
He also said he wanted to improve street lighting and improve the relationship between the police and young people.
Mr Stranack said his policies also included "making sure than work pays" and ensuring all pensioners get a cost of living increase in line with the increase in earnings or at least 2.5%, whichever is greater.
Simon Lane, the 9/11 Was An Inside Job candidate, and Stephen Hammond, candidate for the Christian Peoples Alliance, are yet to provide the BBC with a comment.
Polling stations are open between 07:00 and 22:00 GMT on Thursday 29 November