Father of Steven Neary seeks advice on housing benefit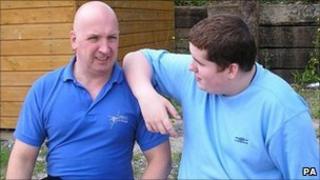 The father of an autistic man who was unlawfully detained by a west London council is seeking legal advice after his housing benefit was revoked.
Hillingdon Council held Steven Neary, of Uxbridge, for almost a year after he was taken into a unit in December 2009.
The 22-year-old's father Mark now says his housing benefit has been stopped because he part-owns a property.
The council said it was bound by law not to allocate the benefit to anyone with equity of more than £16,000.
Last year, the Court of Protection - a specialist court at the High Court which deals with issues surrounding vulnerable people - concluded the council's use of a "deprivation of liberty" authorisation had unlawfully deprived Steven Neary of his freedom after he was sent to a "positive behaviour unit" by the authority.
Mark Neary told the court he viewed the care by the council as a temporary move and expected his son to return home by January 2010.
The council apologised to Mr Neary and his son following the case. In July it was ordered to pay Steven Neary £35,000.
'Not safe'
Mr Neary said he had been getting housing benefit since he and his son had moved into their rented flat in 2009.
He said he had changed his job in June and had asked for his claim to be reassessed because his income had gone down.
"They looked at the claim again and said because I partially owned the old marital home I'm not entitled to housing benefit," Mr Neary said.
"My wife is seriously mentally ill, which is why we moved out in the first place. It's not safe for Steven to be there."
Mr Neary said he could not work more to afford the full rent as he had to look after his son.
He appealed and his housing benefit was reinstated temporarily, he said.
But on Tuesday, Mr Neary said he had been called into another meeting where he was told his housing benefit was being stopped.
Hillingdon Council said it had given Mr Neary three options:
To put the tenancy into his son's name, which would require a court protection order.
That the pair move into the marital home.
That Steven Neary is offered social housing.
Mr Neary said he wished to remain in their current flat because his son attended various activities close by and would lose an important routine if they moved to social housing elsewhere.
'No discretion'
He said if he transferred the tenancy on the flat to his son, his son would have to pay the full rent of £950 a month, eating into his compensation which has not yet been released.
He wants to use the money for activities for his son such as holidays and outings to the theatre.
Mr Neary said his solicitor was examining whether the council had acted legally in stopping his housing benefit.
The solicitor is also looking into whether it is legal to transfer the tenancy of the flat to his son, he said.
"Fortunately, the rent for this month has been paid," he said, adding that he did not know what he would do next month.
A council spokeswoman said the authority was working with Mr Neary to find a solution.
She said: "Due to a change in Mr Neary's personal circumstance he is no longer eligible for housing benefit as the law requires that any equity in property, whether sole or jointly owned, should be taken into account and not exceed the capital threshold set out in the Housing Benefit Regulations 2006.
"The council has taken independent legal advice, which has confirmed that we do not have any discretion on this and are legally bound by the regulations to cancel his payments.
"As we would do with any other resident, we are advising Mr Neary of his housing options, of which he has a few."
The council said it was temporarily paying part of the rent on the flat through its homeless fund ahead of a meeting with Mr Neary next week.