Cash and cars seized by police from criminals in London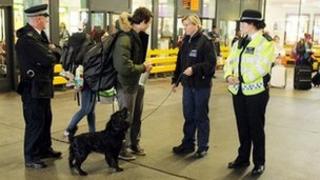 In total 175 people have been arrested in police raids across London to seize cash and assets from criminals.
About 1,300 officers are targeting gangs involved in money laundering, handling stolen goods, drug dealing, fraud and other economic crimes.
Since the raids began earlier, police have seized about £348,000, three BMW cars, two Mercedes and £100,000 cash from an address in Essex.
Sniffer dogs that can uncover hidden money are also being used by officers.
'Luxurious lifestyles'
Metropolitan Police Commander Steve Rodhouse said: "Money is the main motivation for many criminals, be they heads of organised criminal networks, gang members or street-level offenders.
"The money they make from crime earns them status in the eyes of associates; it funds more crime and, for some, pays for them to lead luxurious lifestyles they do not deserve.
"When we take away criminals' money, we take away a lot of their capability and motivation to commit crime."
The 360 raids taking place as part of Operation Stimtone 2 follow a similar move by police in May, which resulted in 158 arrests and the seizure of £2.4m cash, a motorboat and designer watches.