More London people in B&Bs: National Housing Federation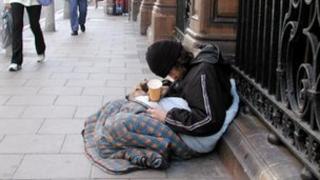 The number of families in London living in temporary accommodation has risen sharply in the past two years, a report has said.
National Housing Federation figures revealed an 82% rise in families with children living in bed and breakfasts (B&B) in the past two years.
More than a third had been in B&Bs for more than the government's maximum of six weeks - a rise of 385% in 2012.
The government said the long-term use of B&Bs was unacceptable and avoidable.
Homelessness fell steadily between 2003 and 2010, the federation said.
Homeless charity Broadway said case workers had reported a 43% increase in the people they encountered sleeping rough between March 2011 and April this year.
The National Housing Federation said levels of homelessness had fallen steadily in the seven years prior to 2010, before shooting up.
The organisation's Homeless Bound report warned that the rise in families living in B&Bs came as councils struggled to find temporary accommodation for growing numbers.
In the first three months of 2012, there were 885 families with children or pregnant women living in B&Bs in the capital, a rise of 82% from 2011, the report said.
'Terrible rise'
One in five new cases of homelessness was caused by a private tenancy ending, putting low-income households at risk, the federation added.
Michelle Smith, from the National Housing Federation, said many Londoners were being "pushed to the brink".
She said the organisation spent about £1bn a year on trying to prevent homelessness around the country.
"Our report shows that private renters - who make up 25% of Londoners today and an even greater proportion in the future - are increasingly at risk of losing the roof over their heads," Ms Smith said.
"Alongside the terrible rise in rough sleepers, many more children are now being pushed into temporary accommodation such as B&Bs.
"These are families who never dreamed they could end up on the streets.
"This is the new face of London's homeless."
Ms Smith said the only long-term solution was to build more affordable homes for sale or rent.
'Unacceptable and avoidable'
The Homeless Bound report focused on council areas in London, the South East and east of England.
A spokeswoman from the Department for Communities and Local Government said: "This country has one of the strongest homelessness safety nets in the world, and the long-term use of B&Bs is both unacceptable and avoidable.
"The law is clear that B&Bs are an emergency option that should not be used for more than six weeks, and the number of families in B&B accommodation is two thirds lower than its peak in 2002.
"To reduce time spent in temporary accommodation we have changed the law so councils can house families in affordable, quality privately rented homes."
She said the department had invested more than £470m into preventing homelessness.
London mayor Boris Johnson has pledged to end rough sleeping in the capital with the No Second Night Out scheme.
The scheme, which provides temporary housing, aims to ensure that nobody will sleep out for a second night.