London mayor discusses Thames estuary airport plan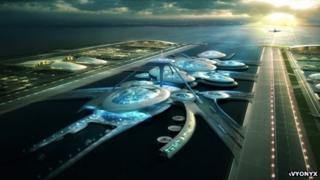 The London mayor has taken his case for a Thames estuary airport to the man reviewing government aviation policy.
Boris Johnson also stated his opposition to a third Heathrow runway as he met former Financial Services Authority chairman Sir Howard Davies.
Sir Howard heads a commission that will make recommendations about future airport capacity needs.
The mayor has backed an airport in the Thames estuary, one design for which was dubbed "Boris Island".
A number of proposals have been unveiled by architects for a possible airport in the estuary.
'Lengthy time frame'
Mr Johnson's meeting with Sir Howard comes a day ahead of the publication of a report by Heathrow airport chiefs on the need for the UK to maintain a major hub airport.
Sir Howard's team will present an interim report to the government by the end of 2013, with a full report due in summer 2015 - after the next general election.
The London mayor criticised the commission's timescale and expressed his concern about "the lengthy three-year timeframe" at his meeting with Sir Howard.
Mr Johnson's spokesman described the hour-long meeting as "friendly, businesslike and productive".
The mayor said the Davies Commission had the opportunity to set a new course for the country's aviation policy and "thereby correct a catastrophic planning error of the past that was now holding the economy back".
"I look forward to staying in close touch with Sir Howard and to contributing to his work," Mr Johnson said.
'Runway alteration'
On Wednesday, Heathrow chief Colin Matthews will launch a report entitled One Hub Or None - stressing the need for Heathrow to remain as the UK's major hub airport.
In a poll earlier this week, the so-called "Boris Island" scheme gained little support from MPs.
Of 93 MPs surveyed, 46% supported expansion at Heathrow, while only 16% backed the estuary plan.
Meanwhile, the all-party 2M Group, which represents more than 20 councils close to Heathrow, said it would tell the Davies Commission that loosening restrictions on Heathrow's existing runways would destroy the quality of life for people living near the flight path.
The campaign group wants a guarantee that "runway alternation" and night-flight restrictions will not be sacrificed so the airport can handle more planes.
It claimed that allowing both runways to be used in tandem for arrivals and departures would be just as damaging as creating a third and fourth landing strip.