London Underground drivers balloted for strike action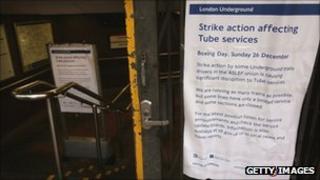 Tube drivers are to be balloted over strike action on Boxing Day after rejecting a new offer made by London Underground.
Drivers' union Aslef has been seeking extra pay for its members for working on 26 December.
London Underground (LU) offered drivers greater flexibility with their leave over the Christmas period.
But the union said the offer was "provocative" and "offered no advance at all".
The union has been demanding triple pay and a day off in lieu for working on bank holidays, but LU maintains there is a long-standing agreement for working on bank holidays, including Boxing Day.
'No advance'
Hundreds of drivers walked out for 24 hours on Boxing Day last year and in 2010 over the pay row.
Howard Collins, London Underground's chief operating officer, said that this year LU had proposed to schedule drivers to be on annual leave on Boxing Day.
Drivers would have the option to volunteer to work on Boxing Day and exchange one day's annual leave for pay; remain on annual leave on Boxing Day, or work on Boxing Day and take annual leave on another day.
A union spokesman said the new offer was "one step back".
"It offers no advance at all on what's been rejected for the last two years," he said.
"We would hope for something more imaginative.
"LU is acting as if they are manufacturing a Boxing Day strike rather than seeking a solution.
"We will ballot our members as soon as we can."
'Shown good faith'
Mr Collins said: "We have been in discussions with Aslef leadership to find a way to end this dispute and have made them what we believe is a very fair offer.
"LU has a long-standing agreement with all trade unions which covers working arrangements on bank holidays, including Boxing Day. However, we have shown good faith and tried to find ways forward.
"Further industrial action will not achieve anything and I would urge the Aslef leadership to take this offer to their members and work towards resolving this dispute."
Tube drivers will vote in the next few weeks on whether to take industrial action.
The result is due on 17 December.