Arthur Scargill loses London flat case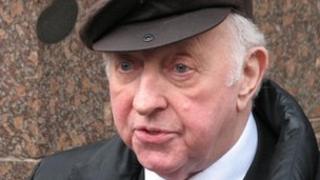 Former miners' leader Arthur Scargill has lost his High Court fight to have the National Union of Mineworkers (NUM) continue to pay for his London flat.
Mr Scargill was president of the NUM until July 2002 and led it during the miners' strike from 1984 to 1985.
He stepped down as president of the union but claimed his contract entitled him to a London home for life, or the life of his widow.
Chris Kitchen, NUM general secretary, said Mr Scargill had been "found out".
Mr Scargill said that the judgment was "perverse".
He added: "There can be no doubt that 30 years ago I was given an entitlement to a property by the union and that entitlement continued during my retirement, as it had done for all my predecessors including Lord Gormley and, after he died, his widow Lady Gormley."
'Anti-Scargill feeling'
On the question of an appeal, Mr Scargill said: "I shall talk to my lawyers about what the best course of action will be."
"I think any independent observer will regard this as yet another judgment with the anti-Scargill feeling about it," he added
After the ruling, Mr Kitchen said it was "regrettable" the NUM had to bring the case.
He said: "I would say it's time to walk away, Mr Scargill. You've been found out.
"The NUM is not your personal bank account and never will be again."
The NUM said the flat cost £34,000 a year, which it could not afford.
Mr Scargill, 74, said he was given use of the rented three-bed Barbican flat for life when he became NUM president in 1982, a tenure that lasted 20 years.
The union paid rent and expenses for the flat - rented from the Corporation of London - until 2011, apart from a period between 1985 and 1991 when Mr Scargill paid for it himself.
The NUM had asked Mr Justice Underhill at London's High Court to declare that it had no such continuing obligation to Mr Scargill.
The union also successfully disputed Mr Scargill's fuel allowance at his Barnsley home and payment for the preparation of his annual tax return but not the cost of his security system in Yorkshire.