Wheelie bin murderer Karen Otmani gets life term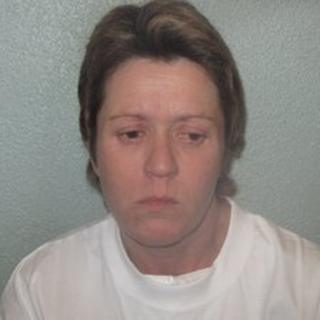 A woman who killed her lover and hid his body in a wheelie bin for 11 days has been jailed for life.
Karen Otmani, 42, was found guilty of murdering Shaun Corey by a jury at the Old Bailey on Friday.
After doping his beer, Otmani tied him to her bed before smothering the 42-year-old at her home in Forest Hill, south London, on 4 June last year.
Otmani, of Stanstead Road, was told she would have to serve a minimum term of 17 years.
The body inside the green bin, which the mother-of-two hid in her bedroom, was discovered by police during a search of the property, the court heard.
Freezer 'too small'
Sentencing, Judge Gerald Gordon told Otmani: "For reasons best known to yourself, you formed the intention to kill your on-off partner.
"You concealed his body for a significant period, causing extra suffering for his family."
The court heard Otmani, originally from Dumfries in Scotland, had been talking about getting rid of Mr Corey and had asked another boyfriend to experiment with some "blue liquid" to see if it would knock him out.
But the man "did not take it seriously", prosecutor Bobbie Cheema said during the trial.
The court heard the victim was heard arguing with Otmani, also known as Tammy Cameron and Karen Boyce, in her bedroom before the pair were joined by Bernard Beddoe, 60, whom she called uncle.
Beddoe helped the killer put the body in the bin, the court heard.
'Good guy'
Beddoe of Brockley, south London, was found guilty of assisting an offender. He was remanded for reports to 7 December.
The killer's new boyfriend Keith Jones called the police after he was told during a visit "He's in there".
The court heard Otmani had measured her freezer but found it "too small".
The jury heard that during the police interview Otmani said: "He freaked me out and I killed him."
In a statement, Mr Corey's family said that justice had been achieved, but would not bring him back.
"Shaun will be dearly missed and was loved by all his family and friends," they said.
"Shaun was an all round good guy whose only mistake in life was befriending and trying to help the wrong person."
They thanked the police, the Crown Prosecution Service, family members and victim and witness support "for all their help during this very difficult time".