Man was stabbed to death in Fulham 'burglary'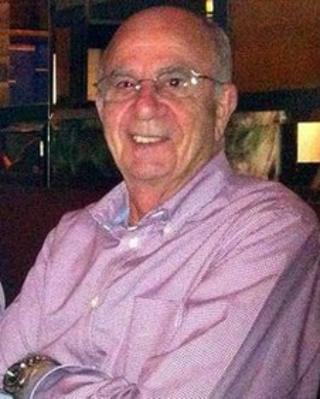 A 73-year-old man was fatally stabbed during a "violent" attack at his home in south-west London, tests show.
Police said they were investigating whether Joseph Griffiths disturbed an intruder at the property in Hazlebury Road, Fulham, early on Saturday.
Officers went to the house after a burglary was reported at the address and found Mr Griffiths, who was pronounced dead at the scene.
Tests showed the married father-of-two suffered a fatal stab wound.
'Friendly, cheerful man'
Police said there were other people in the house at the time but none of them was injured.
Officers have carried out house-to-house inquiries and forensic experts continue to examine the scene.
Alice Vieira works in a local cafe Mr Griffiths used to visit.
She said: "He came here two, three times a week. It's very shocking. He was such a nice man, very friendly, always cheerful and joking."
A neighbour of Mr Griffiths, Almudena Mora said she woke up a few months ago to find that an intruder had been in her house.
She said: "I think I was lucky. If there is a burglar during the night and you wake up and have the bad chance to see them in the corridor you never know what their reaction is going to be. It's scary."
She added that it was seen as a safe, family-orientated neighbourhood.
Det Ch Insp Steven Lawrence said: "We continue to appeal to anyone who may have witnessed anyone suspicious prior to or after this incident or anybody who has any information which would assist us.
"We are conducting house to house inquiries in an around Mr Griffiths' home and forensic examinations are also ongoing."