Salmons Brook flood defence scheme decision due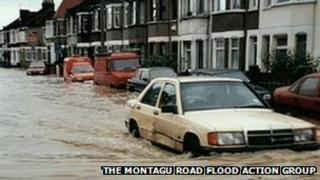 Plans for a multi-million pound flood protection project in north London are expected to be approved next week, despite some local opposition.
The government-backed scheme is designed to protect hundreds of homes near Salmons Brook in Enfield.
The Environment Agency plans to build embankments to divert excess water on to a golf course and recreation ground.
But some people who live further upstream claim the work will be disruptive and unsightly.
Earth mounds
Enfield Council is expected to approve the plans at a meeting on Monday.
It is among the largest of 60 flood and coastal defence schemes that were due to be built across England in the 2011/12 financial year.
Twelve years ago, about 200 homes in Edmonton were flooded.
The Environment Agency plan involves building earth mounds along Salmons Walk, Lower Edmonton, between Plevna Road and Montagu Road.
This will allow excess water to be channelled on to Enfield Golf Course and Montagu Recreation Ground.
But opponents, who say alternatives should be explored, say in the short-term the area will be disrupted by lorries working on the project and the defences will be unsightly.
Resident John Oliver said: "I have a lot of sympathy with the people in Edmonton who were flooded in 2000 but is it really necessary to effectively destroy a local environment when the money could be spent elsewhere as part of a different project and the problem solved that way."
However, Steven Whippe, of the Environment Agency, said they had few options open to them.
"Because of the built-up nature of north London we are very limited in the options that are feasible.
"In every option we need to store water up stream to delay it reaching the flood-risk area."
The £15m scheme will be funded by the government with a contribution from the Thames Regional Flood and Coastal Committee levy.