Rare bumblebee spotted in south-east London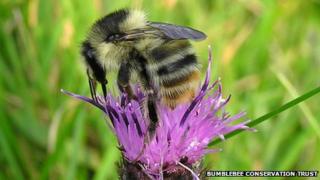 One of the UK's most threatened bumblebees, which has been in decline in southern England over the past century, has been spotted in south-east London.
A shrill carder bumblebee was spotted at Crossness sewage works in Thamesmead by the Bumblebee Conservation Trust.
It said plants would be introduced to encourage the species following the discovery last month.
The bee has not been seen in the city for nearly 10 years.
Great sighting
There are only six or seven populations in England and Wales.
Anthony McCluskey, outreach officer at the Bumblebee Conservation Trust, said: "This species is considered the most rare in the UK.
"The great yellow bumblebee comes next which is only found in Scotland."
He added: "The populations are quite small and far apart."
He said that inbreeding among bees leads to "diploid males" and male infertility.
Sam Page, conservation officer at the trust, was advising on land management for bumblebees funded by the Co-operative's Plan Bee campaign when she made the discovery.
Experts were surprised to see the bumblebee so close to central London.
She said: "Two species of bumblebee have become extinct in the UK since the 1940s and several others, including the shrill carder, are at risk.
"The last sighting of this species in the area was nearly 10 years ago, so it is great to see evidence of them surviving here."
The trust is advising Thames Water, which operates the sewage works, to sow yellow rattle.