Woman completes London marathon solo run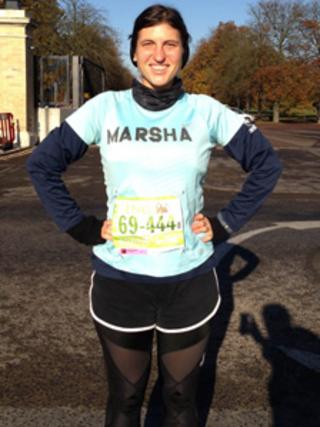 A runner has successfully self-navigated the London marathon route - a week after she had been due to run the New York marathon.
The largest marathon in the world was cancelled after Storm Sandy hit the east coast of the US last week.
Marsha Shandur, 35, took seven hours and 10 minutes to complete the 26.2-mile course, plus a two-mile detour.
On crossing the finish line Ms Shandur had raised almost £2,500 for the Royal Marsden Hospital Cancer Charity.
Sitting down for a well-earned rest on the pavement she said it had been an incredible experience.
"I'm so grateful for the hundreds of supportive tweets I've had, and friends and strangers who came and cheered me on. London really shone today," she said.
Cheering her daughter on along the route, Natasha Ward said: "I think she's crazy and am in total admiration of the people, some of them strangers, who heard about her plan and have run sections of the route with her.
"British pluck and wackiness are alive and well, and it's all worth it in support of the Royal Marsden."
More than 120 were killed and authorities in New York say millions of people are still without power after the storm hit on 31 October.
After plans to press ahead with the race prompted anger in cyclone-ravaged parts of the city, it was cancelled, with the mayor saying he did not want "a cloud" over the event.
Months of training
Having already travelled from her home in Toronto to New York she joined about 2,000 runners for an impromptu "marathon" in Central Park last Sunday.
"I'd already decided I was going to run my marathon in London so used the Central Park event as a training run but it was a great atmosphere," she said.
Ms Shandur decided to run the marathon route on her own after friends suggested holding a mini marathon for her in London, where she was due to arrive on holiday.
The former XFM radio DJ said: "All my friends started emailing me to say how disappointing it was and one of them suggested staging a mini marathon which got me thinking maybe I could do it by myself.
"I have been in training for the past five months, running pretty much every day and I would have raised about £2,000 in sponsorship so didn't want any of that to go to waste."
Faced with negotiating London's busy streets, and finding her way using a map of the route, she completed the run at 17:42 GMT.
Inspiring blog
Friends and family joined her at various points along the route, some ran with her while others ensured she remained on the right track.
Before the run she said: "I'm hoping because there are no mile markers I will treat it like a long run and much less of a big deal but I am going to come first and I am going to come last."
Ms Shandur, who lived in London until two years ago when she moved to Toronto, Canada, is raising funds for the Royal Marsden Cancer Charity.
She was inspired after reading Londoner Lisa Lynch's blog about undergoing treatment for breast cancer at the hospital in Sutton, south London.
Describing the blog as funny and frank she said: "I feel like it was such a gift to me. Everyone is affected by cancer and thanks to the blog I now know how to behave around someone who has cancer."