East End Trades Guild to be launched in Spitalfields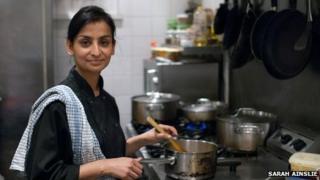 More than 200 small traders in east London are launching a co-operative aimed at protecting their interests.
The East End Trades Guild was conceived after the Gardners' Market Sundriesmen, one of the oldest family businesses in Spitalfields, faced a rent increase two years ago.
The co-operative, which launches on Monday, is made up of traders in the East End and the City of London.
Long-term proposals include accrediting landlords, developers and agents.
A guild spokeswoman said Gardners' Market Sundriesmen, which has sold paper bags from its premises in Commercial Street for more than 140 years, had faced a substantial rent increase two years ago.
But after the case was written about in the local blog Spitalfields Life, the landlord relented, she said.
'Loud voice'
Guild member Philip Pittack, proprietor of fabric supplier Crescent Trading, said he had moved out of his previous premises in Shoreditch two years ago after the landlord said the site would be redeveloped.
Mr Pittack, who has been working in the area for 25 years, is now based across the road at Quaker Court in Quaker Street.
The premises recently suffered a serious fire, but is still open for business.
Speaking of the guild, Mr Pittack said: "We all help each other.
"One reason to join the guild was that people need to be able to get together and have a loud voice, rather than a little miaow from us.
"We used to support the big factories that used to be in the East End but they're not there any more".
He said he now supplies fabrics to customers including smaller designers, film and theatre costume departments and students.
'Local knowledge'
Krissie Nicolson, guild organiser and co-founder, said she became aware of the traders' situation while studying for a MA in community organising at Queen Mary, University of London, and writing for Spitalfields Life.
"I thought 'why not take their message to small-end businesses because there was no local body representing them'," she said.
"In the long term future, we can work on pooling all of our local knowledge and expertise, putting together a new business community standard."
Ms Nicolson said the long-term plans, which would all be voted on by the guild's members, included accrediting landlords, developers and agents.
The launch is due to take place at Christ Church, Spitalfields, on Monday.