London bus and Tube fares to go up 4.2% from January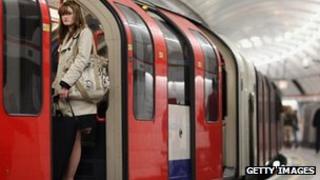 Fares across London's transport network will go up by 4.2% from January, mayor Boris Johnson has announced.
The fare rise means a single bus fare on Oyster pay-as-you-go will be £1.40, up by 5p, while a zone 1 Tube journey will cost £2.10, an increase of 10p.
The increase, described by the mayor as "balanced", is 1% above the Retail Prices Index (RPI) inflation. The government has provided £96m in funds.
Cycle hire cost also doubled with an annual membership rising to £90.
Concessionary fares for young people and veterans have been protected as has free travel for the elderly and disabled.
Mr Johnson said: "This fares package is hugely important to our millions of passengers and I am very pleased to have secured nearly £100m that will help to keep fares as low as possible, and protect the important concessions that we offer the most vulnerable Londoners."
'Tough times'
Bob Crow, general secretary of the Rail, Maritime and Transport union, said: "We believe there should be a policy of freezing fares to recognise the tough times people are facing, to increase the use of public transport and to help boost the economy."
Richard Hebditch, campaigns director at Campaign for Better Transport, said: "By putting fares up above inflation, he is hitting hard-pressed families in the pocket simply for travelling to work."
Earlier Val Shawcross, Labour's spokeswoman for transport, said: "TfL again raised more fare income than they intended to, so I think they could have kept it to RPI and didn't need that extra 1%."
Darren Johnson, London Assembly Green Party member, said: "I hoped that the long overdue expansion of cycle hire into new areas of London would encourage poorer Londoners to give it a go, but raising the access fee will put people off."
A single bus or tram fare on an Oyster card will be £1.40, a 3.7% rise, while the daily cap will rise by 20p to £4.40 - a 4.8% increase.
For those paying by cash a single fare will cost £2.40, a 4.3% rise. A seven-day bus and tram pass will be £19.60, up by 4.3%.
On the Tube, Oyster fares will rise by 5%, £2.10, for a single journey within zone 1, while a peak-time journey to zone 6 will increase by 4.2% to £5. The daily price cap remains unchanged.
The daily £1 charge to access bikes on hire will increase to £2, while the weekly charge will rise to £10.
Transport for London said London Overground's orbital route will be completed over the next year, linking 20 London boroughs, while on the Underground air-conditioned trains will be rolled out across the Circle and Hammersmith & City lines and signal upgrades to the Northern line will be completed.
Contactless payment will also be introduced on the transport network and the first phase will see bus passengers use contactless credit, debit or charge cards.
On the bus network, 600 new design buses have been ordered, which will run on a full route by Spring 2013. The hybrid bus fleet has also been increased to 400.
Dedicated cycle lanes - the cycle superhighway - will be extended from Victoria to Lewisham.
Greater Anglia passengers from Essex and Hertfordshire arriving at London's Liverpool Street station will be able to use Oyster cards from January, with card readers installed in Brentwood, Shenfield, Waltham Cross, Theobalds Grove, Cheshunt and Broxbourne.
The fare rise is in line with the 4.2% increase in rail fares announced in October.