Tube drivers could be balloted over Boxing Day strike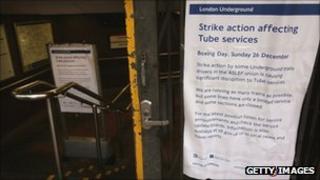 Tube drivers could be balloted for strike action on Boxing Day if talks over extra pay for working on the day fail, drivers' union Aslef has said.
Hundreds of drivers walked out for 24 hours on Boxing Day last year and in 2010 over the pay row.
Aslef said talks were under way with Transport for London but if the row was not resolved it was "quite likely" its 2,200 members could be balloted.
TfL said talks were on and a "threat" to ballot would not achieve anything.
In the past two years shoppers heading for the first day of the post-Christmas sales faced problems as almost all Tube lines were severely disrupted by the strike.
'No positive response'
The union has been demanding triple pay and a day off in lieu for working on bank holidays but TfL maintains there is a long-standing agreement for working on bank holidays, including Boxing Day.
Mick Whelan, general secretary of Aslef, said: "We have not seen any positive response, but we are hoping it will be resolved.
"The company has only recently agreed to sit around the table with us."
He said if the issue was not resolved soon the union would "quite likely" ballot its members for industrial action.
Howard Collins, London Underground's chief operating officer, said: "It would be quite wrong for the Aslef leadership to ballot for industrial action while we remain engaged in discussions to resolve this issue.
"We have had a series of positive discussions with Aslef representatives and there is a proposal on the table.
"LU has a long-standing agreement with all trade unions which cover working arrangements on bank holidays, including Boxing Day. However, we have shown good faith and have further reviewed Boxing Day service arrangements."