Ten arrested over Parliament protest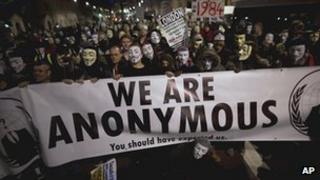 Ten people have been arrested after 400 anti-government protesters gathered outside Parliament, police said.
The demonstrators, many wearing Guy Fawkes masks, assembled at Trafalgar Square on Monday evening before marching to Parliament.
Police said the demonstration was largely peaceful but protesters were pushed back to the green near Parliament.
The Metropolitan Police said people were held for public order offences.
MPs and staff had to leave the building using side entrances as protesters tried to demonstrate outside the main gates.
The protesters, including activists from the Anonymous and Occupy movement, left Parliament Square at about midnight, police said.
An 18-year-old student from South Kensington, said: "People have come to this protest because it is central and it is the best way to get our point across."