Nicholas Levene, City financier, jailed for fraud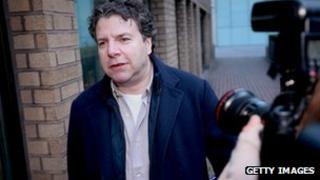 A City financier who admitted conning investors out of tens of millions of pounds to fund his extravagant lifestyle has been jailed for 13 years.
Nicholas Levene, 48, took investors' money to buy shares on their behalf but spent it on luxury cars and yachts, Southwark Crown Court heard.
His high-profile victims included the founders of Stagecoach, Sir Brian Souter and his sister Ann Gloag.
The judge said the scale of Levene's fraud was unprecedented.
Levene, from Barnet in north London, admitted 12 counts of fraud, one count of false accounting and one of obtaining a money transfer by deception.
Gambling addiction
The court heard Levene, a former deputy chairman of Leyton Orient FC, orchestrated the scam between 2005 and 2009.
Other high-profile victims were Richard Caring, the owner of The Ivy and Le Caprice restaurants in London's West End; and Russell Bartlett, director of the R3 Investment Group and former owner of Hull City Football Club.
Levene, nicknamed Beano because of his childhood love of the comic, was a successful City worker with an estimated wealth of between £15m and £20m in 2005.
But he was addicted to gambling, spending fortunes on spread betting, and had an insatiable taste for luxury.
The amount attributed to Levene's false accounting was £32,352,270 but after taking into account his customers' lost profits, the amount rose to £101,685,406.
Serious Fraud Office investigators discovered that while operating the scam, Levene paid out £310m from his accounts.
Some of the money was given to investors to keep them temporarily happy but he also spent huge amounts on schools for his children, cars, luxury holidays for his family, as well as yachts and properties, including a home in Israel.
He once spent £588,000 on a family celebration.
Condemning Levene's "rank dishonesty", Judge Martin Beddoe said: "You were responsible for a fraud on a massive scale with a huge panoply of aggravating features, well planned and professionally executed, involving huge sums and huge profits with multiple victims whose trust in you was grossly abused.
"It was committed over a long period, was well concealed and you took further steps to conceal it and further steps to hide profits from it.
"The outstanding losses of £100m speak for themselves."
Irate clients
The court heard Levene used his contacts and strong reputation to win over people with seemingly concrete investment deals from which he would take a commission or fee.
The married father of three took millions of pounds of investors' funds, promising to invest the money in lucrative rights-issue releases from companies such as HSBC, Lloyds TSB, and the mining companies Xstrata and Rio Tinto.
But often he did not invest the money as promised, instead spending it on himself or redistributing it among his irate clients.
Sir Brian and Mrs Gloag gave Levene £5m in 2009 to invest in Xstrata shares but instead he spread the money around his various accounts and used it to repay clients, including Parviz Hakim-Rad, owner of Jersey company Tadco Ltd, who was owed £3,875,000.
When Levene eventually gave Mr Hakim-Rad a cheque for the money, it bounced.
The Stagecoach bosses later gave Levene a further £2.5m to invest but in August 2009 he went to see Mrs Gloag to confess the money had not been invested and he had spent it on spread betting.