London City Airport marks 25 years with £15m improvements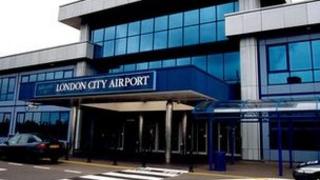 London City airport has announced a £15m improvement programme to mark its 25th anniversary.
Projects include refurbishment of the Western Pier and redevelopment of the international arrivals hall.
The airport near Canary Wharf was officially opened on 5 November 1987 and handled four airlines going to just Brussels, Paris and Plymouth.
Currently, it is home to 10 airlines, serving 43 destinations and carrying as many as 10m passengers annually.
It handles 70,000 flights per year and has permission to increase numbers to 120,000.
Millionth flight
The increase was opposed by local residents, who argued extra flights would increase noise and pollution.
The Fight the Flights campaign group took case to the High Court last year but judges upheld Newham Council's decision to raise the flight capacity.
This year the airport celebrated its millionth flight, welcomed its 36 millionth passenger and hosted an anniversary visit from the Queen.
Declan Collier, chief executive, said: "With the investment we've announced today and further infrastructure work over the next three years, we can reach our permitted capacity, maintain our high standards and absorb some European air traffic from other airports in the South East that are beginning to feel the strain."
The £15m improvement work will begin early next year.