Gloria Knowles 'bled to death' after dog attack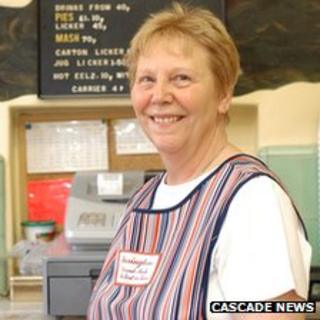 A woman died of shock caused by blood loss as a result of being bitten by her daughter's dogs, a post-mortem examination has revealed.
Gloria Knowles, 71, was found dead at a house in Morden, south-west London, on Tuesday evening.
Five dogs, including two Bordeaux French mastiffs, were seized and police cordoned off two adjoining houses.
Police said the dogs were being kept in kennels, and would not be destroyed as they are not a banned breed.
A Metropolitan Police spokesman said no arrests had been made adding: "A post-mortem gave cause of death as shock caused by haemorrhage as a result of an attack by dogs.
"Police inquiries continue to establish the full circumstances of the incident."
Heard screams
Neighbour Kevin Hamilton said he had heard screams at about 18:15 GMT.
He said he was "absolutely devastated" he had not been able to help his neighbour of 20 years.
Mr Hamilton said the animals, which the police say included one black/blue blood American bulldog, an American bulldog and a small mongrel, were "lovely dogs".
The 65-year-old said Mrs Knowles had been feeding the dogs in the back garden when he had heard screams and dogs barking.
"It wasn't a cry for help or anything and I put it down to children being boisterous," he said.
"It wasn't a vicious sounding bark. I didn't recognise it as such."
He added the screams he heard "may well have been the dogs attacking her".