Armed London bank robbers caught in the act jailed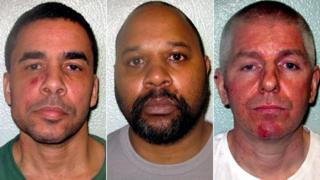 Three men who carried out armed bank robberies for more than a decade have been jailed for at least 20 years each.
The gang targeted banks across London at a rate of about one a year from 2000 until they were caught in North Cheam in February.
Emmet Wynne, 48, from Kent, Robert Hall, 48, and Ian Knight, 51, both from south London, admitted robbery and firearms charges last month.
All three men must serve at least half their sentences.
The men admitted a catalogue of charges including robbery, conspiracy to rob and conspiracy to possess an imitation firearm with intent to commit robbery, at an earlier hearing at Inner London Crown Court on 11 October.
Old men masks
Hall, of Lupus Court, Grange Road, Crystal Palace, was jailed for 22 years.
Wynne, of Wilmar Gardens, West Wickham, and Knight, of Adare Walk, Streatham, were both sentenced to 20 years in prison.
The first robbery was carried out at a bank in Hendon, north London, in 2000.
Prosecutors said subsequent robberies were carried out at Abbey National and Santander in Beckenham High Street, Bromley, and Nationwide in Woodcote Road, Wallington, Sutton.
The men were finally arrested in an operation involving 60 police officers as they targeted a bank in North Cheam in Sutton earlier this year.
According to detectives, the gang's mode of attack was to stake out a bank for about a year, steal the getaway cars months in advance and then do dummy runs.
On the day of the robbery they would break into the bank via the back entrance and lie in wait for security guards to arrive with cash for the ATMs.
Wearing old men masks as a disguise, they would then attack the guards with knives and guns and tie them up with cable ties before escaping with the money.
They are thought to have netted more than £500,000.
Det Ch Insp Paul Johnson, from Tower Bridge Flying Squad, said: "This was a well organised team of armed robbers whose meticulous planning and otherwise normal lives managed to keep them under the radar for so many years.
"If it hadn't been for the tenacity of my officers, this team would have continued to carry out armed robberies for many more years to come."