'Oldest Vauxhall' auctioned by Bonhams for £94,000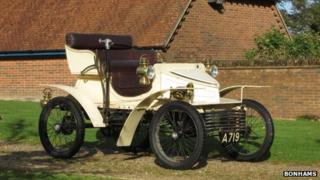 A car that is believed to be the oldest surviving Vauxhall has sold for £94,460 at an auction in London.
The cream two-seater with brown leather upholstery was ordered for Vauxhall managing director Percy Kidner in November 1903.
In April 1904 Mr Kidner sold it to Dr Dudley Bernhardt, who lived in Marylebone, central London.
The oldest item at the auction was an 1895 Buffum Stanhope which Bonhams auctioneers said fetched £113,500.
'Very important car'
The Vauxhall, which sold for £15,000 above the guide price, remained in the Bernhardt family and was in regular use until about 1920.
In 1955, it was loaned to the London Science Museum.
The museum modernised the vehicle with help from Vauxhall Motors in Luton and it took part in the London to Brighton run.
The car underwent a major refurbishment in 2001-2002.
Tim Schofield, director of Bonhams' UK motor car department, said: "This is the first time in 108 years this historic landmark vehicle has been offered on the open market.
"We believe it is the oldest surviving Vauxhall, which makes it a very important motor car."
The 1895 Buffum Stanhope was the first Buffum motor car produced and the "oldest American car ever offered at auction", Bonhams said.
The four-cylinder vehicle was in the family's possession for about 40 years.
The top price at the auction was commanded by a 1904 Delaugere et Clayette which sold for 225,500, followed by a 1904 Richard-Brasier which went for £223,260.
A 1904 Wolseley Tonneau, which was estimated to fetch up to £150,000, failed to sell at the auction but was later sold for £85,000.